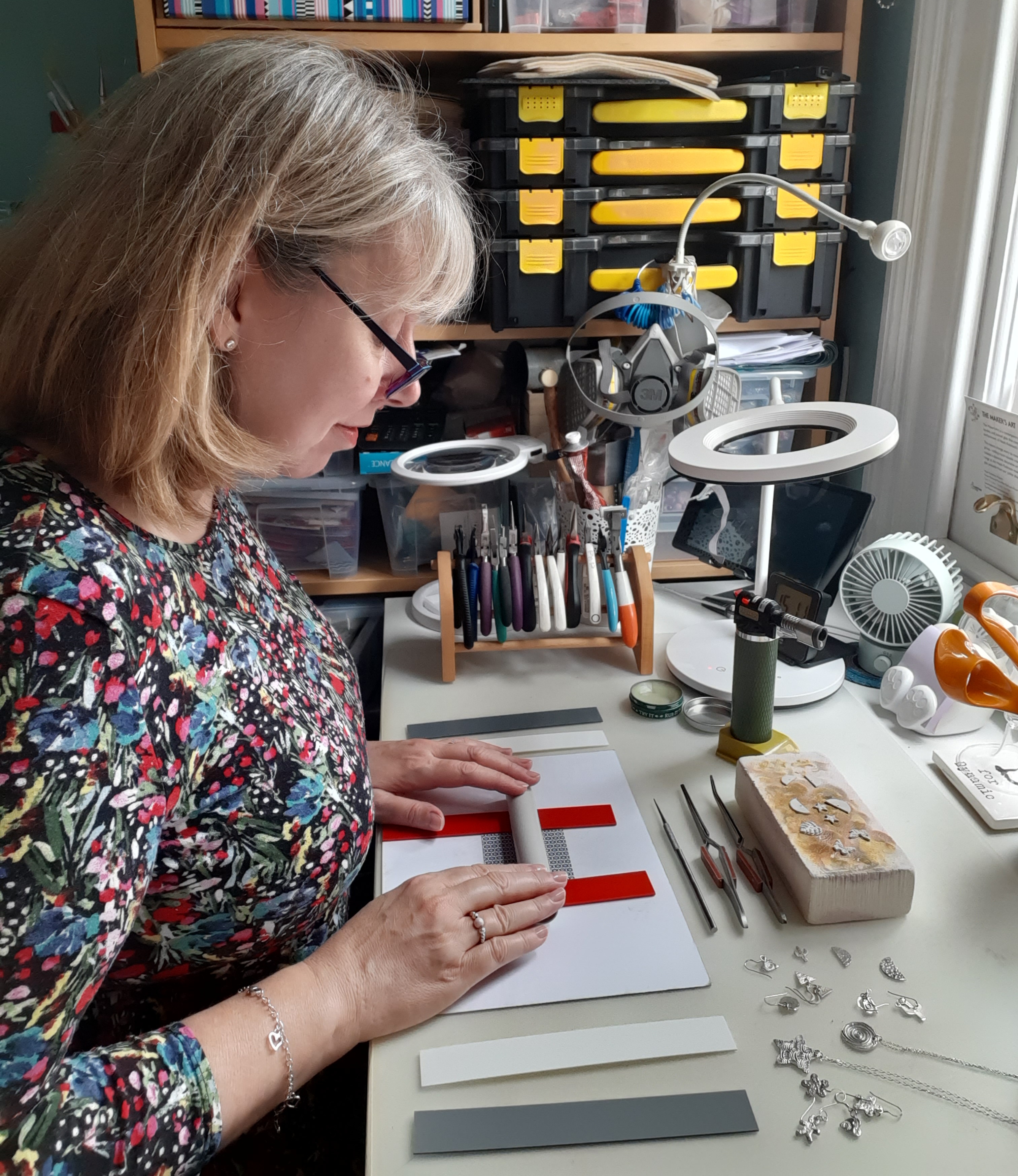 Hello and welcome to Denalis.
I'm Denise and have been making jewellery and greetings cards since 2014 in my tiny box room workshop in Ealing, London.

I am a member of The Guild of Jewellery Designers.


Denalis jewellery
I love silver and have been working with precious metal clay since completing courses at The London Jewellery School in Hatton Garden a few years ago.

Silver precious clay is a very versatile, zero waste material. It's made from extremely fine particles of silver, a by-product of manufacturing processes, mixed with organic binders and water.
Each piece I make goes through the same process - roll, texture, shape, dry, sand, fire to burn off the binder and polish - leaving a beautiful and unique piece of assay quality solid silver.
Working with silver clay has endless design possibilities and much of my inspiration comes from my garden, the wider environment and works of art. I use a mixture of proprietary texture sheets and metal stamps as well as leaves, feathers, lace, fabrics and textured wall coverings to create the backgrounds to my designs.
All pieces are individually handcrafted so no two items are identical, although styles can be similar.
Any pieces weighing over 7.78g will be hallmarked. The chains and ear wires are sterling silver and stamped 925 by the manufacturer.
I also handmake sterling silver jewellery, some pieces incorporating semi precious stones or Swarovski crystal beads.

Shop jewellery

Looking after your Denalis jewellery





Denalis greetings cards
Each Denalis card is unique and individually handcrafted. I design each one using a combination of fabric, craft papers and cards, sequins, gems, buttons and ribbons to realise them. Each element is cut, assembled and finished carefully by hand.
The cards are white, recycled, A6 size and come with an envelope.
They are blank inside for your own greeting.
I have a range of Denalis printed greetings cards - I design and hand finish each one. They are A6 size and printed on 100% recycled smooth 350gsm card with a recycled white envelope.
Denalis also stocks Gagglegoose Green Art cards. The original artworks for these quirky, comical and wonderfully detailed greetings cards were painted by my dad, John Bird.
Dad was an incredibly talented self taught artist, born and bred in Shepherd's Bush, West London. He exhibited his work on the railings of the famous Bayswater Road for many years - his pitch was opposite Lancaster Gate tube station.
He would regale us with tales of all the celebrities he saw but he was particularly proud to have sold one of his works to former Liverpool and England footballer Kevin Keegan.
Later Dad moved to the New Forest where he finally settled in Lymington.
Cards measure 7" x 5", are blank inside and come with a white envelope.
Gagglegoose Christmas cards are A6 size.
All cards are packaged in compostable and biodegradable vegetable starch bags.

Shop greetings cards