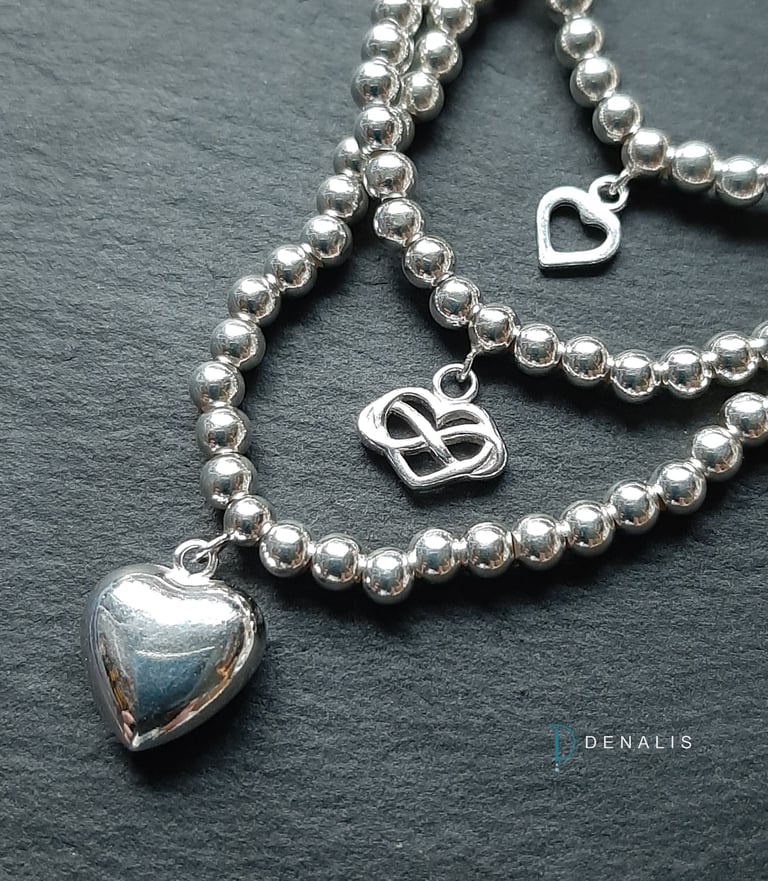 Eloise sterling silver bead bracelets with charms
Pretty sterling silver bracelets each with its own sterling silver charm.
Bracelet size is approximately 17.5-18cm. Other bracelet sizes can be made to order.
Beads are 4mm.
Stretch bracelets can be gently rolled on and off - no fiddly clasps.
Puffed heart - 15mm from the top of the fixed ring.
Infinity heart - 11mm
Small open heart - 7mm
Large star - 15mm x 10.5mm
Star - 10mm
Lily flower - 14mm
Flower with cubic zirconia crystals - 10mm
Bee - 15mm x 12.5mm (including fixed ring)
Jigsaw - 11mm x 8mm
Rainbow - 11mm
Padlock - 11mm x 6mm
Teardrop - 11mm
Hedgehog - 12mm
Dragonfly - 10mm
Dinosaur (diplodocus) - 10mm x 6mm
Button - 11mm
Dachshund - 11mm
Heart in circle - 10mm
Chakra lotus flower - 10mm
Tassel - discontinued
Bird - 12mm
Presented in a white recycled and recyclable gift box with a white, non-tarnish insert.
All sizes are approximate.